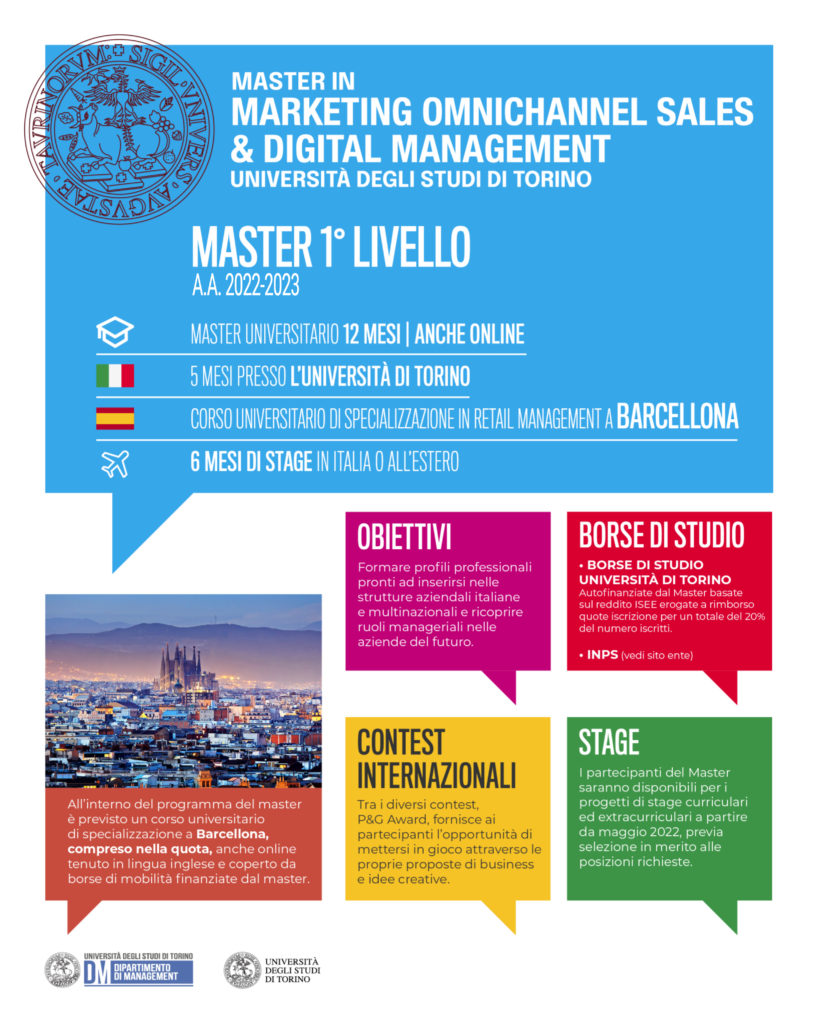 GOALS
The Master in Marketing Omnichannel Sales & Digital Management aims to:
Train digital marketing, retail and sales specialists capable of supporting winning internationalization strategies and policies for branded and Made in Italy companies
Provide methodologies and tools for developing new business models and distribution formats
Develop soft skills in the areas of international digital marketing, human resource management, management accounting, market analysis surveys, supply chian management, commercial contracts
IN-PERSON MODE
Lectures of the Master's program will be held in Turin at the headquarters of the Department of Management at Corso Unione Sovietica 218 bis, in full-time mode with the following schedule: Monday through Thursday from 9 a.m. to 1 p.m. and 2 p.m. to 6 p.m.; Friday from 9 a.m. to 1 p.m. The lectures will be recorded through the WEBEX program and made available on the platform. In cases of inability to physically attend the lecture, one can connect remotely. The Master's degree price above is divisible into three installments.
For more details, please consult the brochure or contacts listed.
TRAINING CREDITS
80 CFU
DURATION
12 MONTHS
LANGUAGE
ITALIAN/ENGLISH
PRICE
€9552.00

ONLINE MODE - NEW A.Y. 2023-2024
From the 2023/2024 academic year, a new format is available dedicated to workers and all those people who cannot attend classes but still want to take the opportunity to attend the Master's program with distance learning through always-accessible multimedia content (video lectures, recordings, and tutorship).
For more details write an email to annaclaudia.pellicelli@unito.it or see the contacts listed.
TRAINING CREDITS
80 CFU
DURATION
12 MONTHS
LANGUAGE
ITALIAN/ENGLISH
PRICE
€ 5000.00

FIRST PERIOD
November 24, 2023 - March 2024
Partner companies, business entities and multinational corporations, contribute to active participation in the teaching with testimonials, case studies, international contests, workshops and projects in the field.
Reducing the distance between learning and profession allows young people to develop not only professional skills but also soft skills necessary to cover managerial figures in digital communication.
In order to address the challenges and opportunities of international markets, particular attention is paid to international marketing, trade marketing, sales, finance and control, supply chain management, labelling and food recycling.
SECOND PERIOD
April 2024
University Course of Specialization in Retail Management of two weeks, in Barcelona, funded by the University of Barcelona mobility.
THIRD PERIOD STAGE
From May 2024
The collaboration with the partner companies and not, gives the students the opportunity to carry out activities of first employment in marketing, sales, supply chain management in Italy and abroad
PROFESSIONAL OUTLETS
Brand Manager
Digital Manager
Product Manager
Trade Manager
Retail Manager
Retail Operation Manager
Trade Marketing Manager
Merchandising Planner
Buyer
Visual Merchandising
Key Account
Marketing Manager
Omnichannel Manager
Export Manager
Sales Manager
Social Media Planner
Area Manager
Store Merchandising Manager
Category Manager
Supply Chain Manager
Store Manager
RECIPIENTS
The Master's degree in Omnichannel Sales & Digital Management is for anyone with an interest in the world of retail and marketing. The candidate must meet at least one of the following requirements:
Degrees of the old sort
All top level degrees
All second level degrees
Foreign degrees recognised as eligible by the University rules for Masters
Professionals with degree
FOR INFORMATION
Prof. Anna Claudia Pellicelli
Director of Master's degrees
+39 338 8172214
annaclaudia.pellicelli@unito.it
MASTER SECRETARIAT
Corso Unione Sovietica 218 bis – Torino
mastermarketing.management@unito.it